Contemporary Russian Painters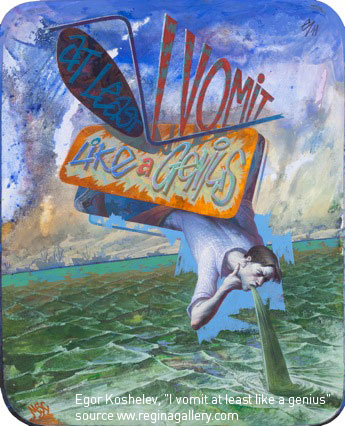 Contemporary Russian art scene is thriving: more and more young artists emerge to add to the pleiad of those who make up the face of contemporary Russian art. Contemporary Russian painters touch upon topical issues, revealing their view on the social situation, and strive to find new ways of expressing themselves.
Big bold signs and letters placed in unconventional graphical compositions are signature style of a young contemporary Russian painter Egor Koshelev. He started off by drawing graffiti on Moscow backstreets and ended up in some of the most trendy art spaces of the city. Today the lovers of contemporary art are trying to look into philosophy of this Russian painter through his huge graffiti-like artworks.
On the other side of the spectrum are more mature contemporary Russian painters, who, side by side with the younger generations, present Russia on major art events and displays around the world. Ivan Chuikov's paintings on real window frames, Vladimir Ovchinnikov's surrealistic paintings on realist subjects and bright lively paintings of Moscow life by a popular art duet Vladimir Dubossarsky and Alexander Vinogradov are showcase works of some of the most exciting contemporary Russian painters.