Nouns and Personal Pronouns in the Prepositional Case
Lesson 21
This is the final, 6th case in the Russian language. The prepositional answers the questions О ком? О чём? (which mean "About whom? About what?") and is mostly used with the prepositions о or об (об if following word starts with a vowel)—"about". Other prepositions of this case are: в—"in, at", на—"on, at".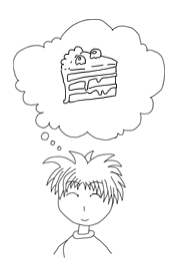 Он мечтает
о торте.
Examples with the preposition о:
Мама думает о сыне.
Mama thinks about her son.
Иван Петрович пишет
доклад о работе.
Ivan Petrovich writes a note about
his work.
— О чём вы говорите?
"What are you talking about?"
— О ком вы думаете?
"Whom are you thinking about?"
This preposition is always used to express one's feelings, object of speech, dreams, thoughts, etc. Here are some verbs that are used together with the Prepositional Case
думать
to think
мечтать
to dream
говорить
to talk
писать
to write
рассказывать
to tell
спорить
to argue
The prepositions в and на are used to express position of something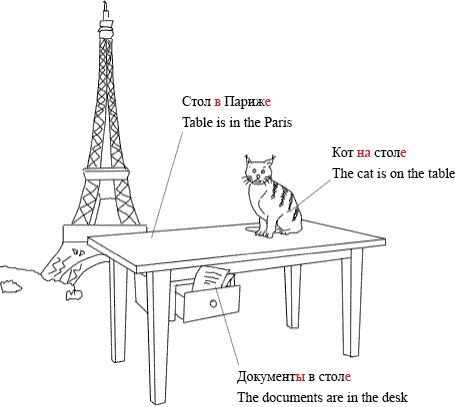 Singular
Feminine
Кто? Что? — Nominative
мама
сестра
жена
подруга
О ком? О чём? — Prepositional

о

мам

е

о

сестр

е

о

жен

е

о

подруг

е
—а → —е
о

матер

и

о

дочер

и

о

площад

и
Masculine
о

брат

е

о

сын

е

о

друг

е

о

дожд

е
— zero ending → —е
Neuter
Plural
Кто? Что?
Nominative Singular
мама
папа
подруга
коллега
стол
офис
компьютер
телефон
О ком? О чём?
Prepositional Plural

о

мам

ах

о

пап

ах

о

подруг

ах

о

коллег

ах

о

стол

ах

об

офис

ах

о

телефон

ах
—а / — zero ending → —ах
демонстрация
конституция
трансляция
конференция
о

демонстраци

ях

о

конституци

ях

о

трансляци

ях

о

конференци

ях
—ия → —ях
Remember!
There are some words that form Prepositional plural from Nominative plural
брат — братья
друг — друзья
сын — сыновья
муж — мужья
стул — стулья
лист — листья
дочь — дочери
мать — матери
о

брать

ях

о

друзь

ях

о

сыновь

ях

о

мужь

ях

о

стуль

ях

о

листь

ях

о

дочер

ях

о

матер

ях
soft endings —и / —я → —ях
имя — имена
время — времена
—а → —ах
Words that exist only in Plural form
очки
ножницы
деньги
часы (наручные, настенные)
брюки
об

очк

ах

о

ножниц

ах

о

деньг

ах

о

час

ах

о

брюк

ах
Кто?
я
ты
он
она
мы
вы
они
О ком?
обо мне
о тебе
о нём
о ней
о нас
о вас
о них